Site Management Safety Training Scheme
The CITB SMSTS course or Site Management Safety Training Scheme is ideal for those in any role of responsibility within the construction industry. It is strongly regarded by many as the best site safety management qualification available. The site manager training is delivered to over ten thousand people each year. The training will provide you with a thorough health and safety background within the current legal guidelines.
The training teaches the health and safety skills required to maintain a safe construction site. It should not be confused with the 2-day SSSTS as the Site Supervisor Safety Training Scheme is a less senior qualification.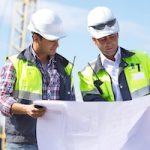 Managers Have a Legal Duty
As a construction project manager, construction site manager or a supervisor you have a legal duty to ensure the safety and health of fellow workers and the public. There are laws and regulations with which you are required to adhere. Managers have a moral duty to do all that is possible to prevent accidents and injuries on-site. Training in construction safety is a necessity and a requirement. Attending and successfully completing the SMSTS course shows you comply with these laws.
Is the SMSTS Course Accredited?
Yes this course is accredited by the Construction Industry Training Board (CITB) and is part of the Site Safety Plus suite of courses. CITB SMSTS certification is an indication of the competence of a Site Manager according to the Approved Code of Practice (ACoP) for the CDM Regulations. The qualification is ideal for Site Managers as well as proprietors of construction companies, project managers and site supervisors. BuildUK approves this course as the standard training for all construction site managers and construction project managers.
Course Duration
The site management safety training scheme takes place over five days either as a 5-day block or one day a week for five weeks—approximately 37.5 hours of training.
Is a CITB Grant Claimable?
Yes, companies who are CITB registered can claim £120 grant for each delegate. To allow for the automated process of claiming back the training grant, please ensure that delegates attending the CITB site manager training, take the Levy Number & enter it on the relevant section of the course paperwork. Retrospective claims may not be accepted.
Can I Study Online Instead of in a Classroom?
Yes, the Site Management Safety Training Scheme rules have been implemented by the Construction Industry Training Board to enable individuals to attend the SMSTS online course. The online study method involves studying at home or in the workplace using video technology assisted by a live tutor.
SMSTS Course Content
The main focus of the course content will be risk assessment. The syllabus focuses on learning how to work and manage following the regulations which are stipulated by the Health and Safety at Work Act. Topics which are covered include planning, organising, monitoring, controlling and administering:
Health & Safety at Work Act
CDM Regulations 2015
Risk Assessments
Method Statements
Scaffolding
Excavations
Scaffolding
Demolition
Confined Spaces
Site Set Up
You are required to attend all five days of the site manager training course. You will need to show understanding of the main elements and pass the core exercises to prove your competence. At the end there is a final examination. If you pass the exam you will qualify for the CITB Site Management Safety Training Scheme certificate. Your Site Manager Safety Training Scheme certificate will then be valid for five years.
How is the Site Manager Training Assessed?
Assessment is continuous throughout the site manager training course via individual and group exercises. Testing of the knowledge learned is in the form of a multiple choice CITB examination paper consisting of twenty five questions. Five of the questions will be safety critical and will require a short written answer.
Safety critical questions are worth one to three points each and multiple choice questions are worth one point each. You are required to answer all of the safety critical questions correctly. To pass the exam you will need to achieve a score of eighty percent (twenty eight out of thirty five).
Upon successful completion the CITB will issue a certificate within six to eight weeks. Please note that a 'card' is not issued.
Attend All Sessions & Provide Photo I.D.
It must be stressed that you need to attend all sessions. Without full attendance the examining body will not award the certificate.
Photographic I.D. is required. Written parental consent is required for all delegates under eighteen years of age. Failure to provide this on the first day of the course is likely to result in not being allowed to attend. You must have a good understanding of written and spoken English. (Please note that translators are not permitted to attend).
CITB Site Safety Plus Publication / Workbook (GE700)
All CITB Site Safety Plus SMSTS courses advertised on our website include access to Construction Site Skills publications. Dependent on the accredited CITB training provider, you will be given the option of taking away training materials in the following formats:
hard copy workbooks
CD
access to materials online
We'll confirm this via the course joining instructions which will be issued following receipt of full payment. Please check at the time of booking if hard copy publications are included in the cost.
Attend the SMSTS Refresher Every Five Years
After five years you will need to return for a two-day SMSTS Refresher. This will ensure you are kept up to date with the latest H&S regulations. Refresher courses are available in most major towns and cities in addition to virtual learning format. By passing and maintaining your training you are able to prove that you are complying with the health and safety laws. In the event your current certificate has expired you must attend the full five day SMSTS course again.
Comparing the CITB SMSTS & SSSTS Qualifications
It is important to choose the right site safety qualification that suits your job position, industry and responsibilities. You'll need to determine which is best suited for you.
Both courses were introduced in 2002 by the UK government, as a way of improving the awareness level of safety on construction sites.
These courses are both provided by training centres at public training venues, virtual learning or have the trainer come to your workplace.
These managerial and supervisory qualifications are similar in a lot of ways, however there are differences between the two. One course will be better suited than the other. Look closely at the differences to help you select the correct program.
What's the Difference?
Both training courses focus on safety in the construction environment, but their focus is slightly different. The SMSTS course focuses toward the law and the regulations. The site manager training highlights the practices that are outlined by the Health & Safety Executive (HSE) and ensures managers are not breaching the law.
The five day site manager qualification lasts for five years and when the qualification is about to expire you can take a 2-day SMSTS refresher. If you pass the exam, you will renew your qualification and be able to use it again for five more years. The refresher course covers all of the latest developments in the law and the newest issues in construction.
The site supervisor qualification requires you to take a 1-day SSSTS refresher before your certificate expires to keep your qualification valid. This is a course to update your knowledge.
The focus of the content of the site supervisor course is toward increasing awareness and understanding for managers. The focus is on what good practice is and why you need it.
An introduction to CDM 2015 Regulations is covered on both courses as well as information on how to conduct risk assessments. Conducting risk assessments ensures that you'll able to identify and prevent accidents in the workplace.
The site supervisor course ends with a thirty minute examination. The exam will be made up of multiple choice questions and answers. The managers course will be evaluated via a series of group based and individual exercises as well as an end-of-course exam. You will need to show that you understand the main elements of the course by passing the core exercises, as well as pass the final examination.
What Else Should I Consider?
Here are a few other things to consider before booking:
CITB Approved Training Organisation status
instructor experience
training provider course cancellation statistics
customer reviews and quality ratings
suitability and quality of the training venue
price of the course
what's included e.g. workbooks etc
Do I Need a CSCS Card if I Have the Site Managers Qualification?
Yes, the 5 day Site Management qualification does not exempt you from having to do the CSCS card test. If you would like to apply for a Construction Skills Certification Scheme card you are required to pass the appropriate level CITB health, safety and environment test for your occupation. Find out which test you need to take by using the online CSCS card-finder at the CSCS website.
Suggested Progression
Delegates who would like to continue their professional development may want to consider completing the NEBOSH Construction Certificate, or a Construction NVQ