What is SMSTS Site Management Safety Training Scheme Course by CITB?
The SMSTS course is a qualification created by the CITB to establish a clear industry-wide standard for the management of health and safety on construction sites. SMSTS training is ideal if you are in a position of responsibility within the construction industry. The qualification is targeted at construction workers such as site managers, proprietors of construction companies, project managers and supervisors.
The SMSTS course is regarded by many as the best construction safety management qualification available. This site manager education is delivered to over ten thousand people each year. BuildUK approves this course as the standard for all construction managers and project managers.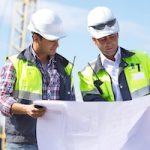 Site Managers Have a Legal Duty
As a construction site manager, project manager or supervisor you have a legal duty to ensure the safety and health of fellow workers and the public. There are laws and regulations with which you are required to adhere. You have a moral duty to do all that is possible to prevent accidents and injuries at work. Education in construction safety is a necessity and a requirement. Attending and successfully completing the SMSTS course shows you comply with these laws.
Is the SMSTS Course Accredited?
Yes, the SMSTS course is accredited by the Construction Industry Training Board (CITB) and is part of the Site Safety Plus suite of courses. The certification achieved upon successful completion of this course is an indication of the competence of a site manager according to the Approved Code of Practice (ACoP) for the CDM Regulations.
Duration
The training course takes place over five days either as a 5-day block or one day a week for five weeks—approximately 37.5 hours of training.
CITB SMSTS Course Content
The main focus of the course will be risk assessment. The syllabus focuses on learning how to work and manage following the regulations which are stipulated by the Health and Safety at Work Act (HSWA). Topics which are covered include planning, organising, monitoring, controlling and administering:
HSWA
CDM Regulations 2015
Risk Assessments
Method Statements
Scaffolding
Excavations
Scaffolding
Demolition
Confined Spaces
Site Set Up
CITB Publication / Workbook (GE700)
All CITB SMSTS courses advertised on our website include access to Construction Skills publications. Dependent on the accredited CITB training provider, you will be given the option of taking away training materials in the following formats:
hard copy workbooks
CD
access to materials online
We'll confirm this via the course joining instructions which will be issued following receipt of full payment. Please check at the time of booking if hard copy publications are included in the cost.
What will be required of you?
You will be required to attend all 5-days of the SMSTS training. It must be stressed that you need to attend all sessions. Without full attendance the CITB examination body will not award the certificate.
You will need to show understanding of the main elements and pass the core exercises to prove your competence. At the end there is a final CITB examination. If you pass the exam you will qualify for the Site Management Safety Training Scheme certificate. Your SMSTS certificate will then be valid for five years.
Photographic I.D. will be required.
Written parental consent will be required if you are under eighteen years of age. Failure to provide this on the first day is likely to result in not being allowed to attend.
You must have a good understanding of written and spoken English. (Please note that translators are not permitted to attend).
Assessment / Examination
The assessment is continuous throughout the SMSTS training course via individual and group exercises. Testing of the knowledge learned is in the form of a multiple choice CITB examination paper consisting of twenty five questions. Five of the questions will be safety critical and will require a short written answer.
Safety critical questions are worth one to three points each and multiple choice questions are worth one point each. You are required to answer all of the critical questions correctly. To pass the exam you will need to achieve a score of eighty percent (twenty eight out of thirty five).
Upon successful completion the CITB will issue a certificate within six to eight weeks. Please note that a 'card' is not issued.
Attend the SMSTS Refresher Every 5 Years
After 5 years you will need to return for a 2-day SMSTS Refresher. This will ensure you are kept up to date with the latest H&S regulations. Refresher courses are available in most major towns and cities in addition to virtual learning format. By passing and maintaining your certification you are able to prove that you are complying with the laws and regulations. In the event your current certificate has expired you must attend the full 5-day SMSTS course again.
Further Studying
Delegates who would like to continue their professional development may want to consider completing the NEBOSH Construction Certificate, or a Construction NVQ
Other Construction Health and Safety Courses
Related Posts & Content
Online (Instructor-Led) Learning Format
The online instructor-led version of the SMSTS course is designed to maintain a level of training for Site Managers during extraordinary circumstances
If you have arrived here looking for an online course for the CITB site managers program or the refresher qualification, you've come to the right place.
Scheme rules have been implemented by the Construction Industry Training Board as a result of extraordinary circumstances impacting the regular provision of training to the construction industry. This measure is designed to maintain a level of training in the industry for existing Site Managers, ensuring a continued understanding of legislative changes and their impact on the workplace. Both the SMSTS and SMSTS Refresher can be studied online at home or at work.
Prior to the COVID-19 pandemic CITB SMSTS courses were delivered in a traditional classroom setting only due to the strict examination conditions required. The CITB has been forced to allow online studying during the lockdown periods and beyond, this ensures health and safety knowledge and qualifications of construction site managers are kept up to date.
Online Training Using Video Technology
The online course is delivered remotely using video technology. The training is led by a live tutor just like the traditional classroom course. The training follows the same curriculum and delivers the same standard of training meeting all CITB scheme rules.
What's different about the online course?
The minimum delegate numbers for the online site management safety training scheme has been be reduced to two.
To manage remote online training effectively, the maximum number of delegates allowed will be reduced to ten.
An alternative exam method will be in place for the online course.
Your I.D. will be checked prior to the examination commencing.
During the examination, the trainer will invigilate a maximum of 5 delegates.
You must show the invigilator that you are alone in the room and you must be visible via the video at all times.
You must not use any reference material until the last 10 minutes of the exam, which is the open book session.
What remains the same?
The aims and objectives of the online course will be the same as the classroom version.
The duration is still 5-days, however, due to the remote online training delivery method the course may be split and completed over more than 5-days plus examination time.
If you are looking to renew your current certificate you can attend the SMSTS Refresher

 course.
Reasons to take the training online
Remote/online training provides the ability to study at work or in the comfort of your own home. Online is generally a more cost effective learning method for supervisors and managers to acquire the site managers qualification.
Below are some reasons why it is crucial to have a good knowledge base through achieving the qualification:
Correct health and safety procedures can help you to avoid an accident in the workplace that could have serious negative consequences such as injury, illness or death.
You will be able to avoid expensive legal fees and fines because you will be covered for liability if an accident does occur.
Accidents, damage, work absences and downtime can have a seriously negative effect on the profits of your business. Proper health and safety training will help you to avoid this.
Workplace accidents will also have a negative effect on your reputation. This will make it more difficult to hire great talent and to build relationships with other companies. No one will want to work with you or work for you if you are seen to be carrying out your operations in an unsafe way.
Employee morale can also be negatively affected by lack of health and safety training. When things are unsafe and dangerous, your employees will believe that you don't care about their well-being. When you invest in their safety, you are showing them that you value them.