Introducing the SMSTS Refresher Course
The CITB SMSTS Refresher course is aimed towards individuals who hold a current Site Management Safety Training Scheme certificate and wish to renew their qualification for another five years. The training is designed to ensure that personnel maintain and update their current health and safety knowledge. The refresher course covers changes to legislation, approved codes of practice and best working practice within the industry.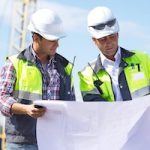 Individuals wishing to renew their SMSTS certificate must provide a copy of the original five-day course certificate. Details of the training venue and the date of the course should also be provided if known. Only those individuals who have passed the five day SMSTS course and provided evidence of this will be eligible to take the two day refresher course.
IMPORTANT NOTICE: It's Possible to Attend this in 'Virtual Trainer' Format During COVID-19 Lockdown
Scheme Rules have been implemented by the CITB as a result of extraordinary circumstances impacting the regular provision of training to the construction industry. This measure is designed to maintain a level of training in the industry for existing Site Managers, ensuring a continued understanding of legislative changes and their impact on the workplace. During the COVID-19 lockdown the SMSTS Refresher online course can be attended at home.
Certificate Expiry – All delegates now have until 30 April 2021 to join a SMSTS refresher course, if their current certificate expired after the 01 December 2020.
CITB will continue to review the situation on a regular basis and will communicate any further updates if Government advice changes.
SMSTS Refresher Course Content
Introduction to Health and Safety Management
Managing Health and Safety
Responsibilities of Supervisors and Managers
Measuring and Auditing health and safety performance
Control of hazards and risks
Upon completion of this SMSTS Refresher training, candidates will be able to:
Appreciate recent developments in construction legislation accident causes, costs and reasons for prevention
Understand the legal system, relevant legislation, Approved Codes of Practice, Guidance Notes Codes of Practice and Case Law
Conduct risk assessments
Monitor health and safety performance
Understand best practice in the management of sub-contractors
Disseminate information to operatives and sub-contractors.
Duration
Training Assessment
Assessment is continuous throughout the SMSTS Refresher training via individual and group exercises. Testing of the knowledge learned during the five days is in the form of a multiple choice CITB examination paper consisting of 25 questions. 5 of the questions will be safety critical and will require a short written answer.
Safety critical questions are worth 1-3 points each and multiple choice questions are worth 1 point each. To pass the course successfully delegates will be required to answer all of the safety critical questions correctly. The pass the exam a score of 80% (28 out of 35) will be required.
CITB Certification
Successful candidates will be awarded the Site Safety Plus CITB Construction Site Management Safety Training Certificate (SMSTS). This certificate will remain valid for 5 years.
The two day SMSTS Refresher course will enable current certificate holders to renew their qualification, however this course can only be attended by current and valid CITB SMSTS certificate holders. In the event the certificate has expired they will be required to attend the full five day course again.
All SMSTS certificates issued by the CITB after 1st January 2001 are valid for a five year period from the date of issue.
IMPORTANT INFORMATION
Full attendance throughout the duration of the training is required. All delegates must have a good understanding of written & spoken English. (Please note that translators are not permitted to attend).
Photographic I.D. is required for all delegates
Written parental consent is required for all delegates under 18 years of age
Failure to provide this on the first day of the course is likely to result in the delegate not being allowed to attend or complete the training.
CITB Site Safety Plus Publication / Workbooks
All CITB Site Safety Plus courses advertised on our website include access to Construction Site Skills publications. Dependent on the accredited CITB training provider, delegates are given the option of taking away training materials in the following formats
hard copy workbooks
CD
access to a materials online
Confirmation will be provided via the joining instructions issued following receipt of full payment. Please check at the time of booking as to whether or not current hard copy publications are included in the cost.
CITB Levy Payers
To allow for the automated process of claiming back the training grant, please ensure that delegates attending courses, take the Levy Number & enter it on the relevant section of the course paperwork. Retrospective claims may not be accepted.
Delegates attending a refresher course, must bring with them their current valid CITB certificate. Failure to do so may result in them not being allowed to complete the refresher course. Delegates may also be asked to provide a copy at the time of booking.