CITB SSSTS Training for Construction Site Supervision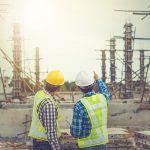 The SSSTS course is a CITB accredited Site Supervision Safety Training Scheme for the construction site supervisor. This site safety qualification is now a requirement set out by the major contractors group for all supervisors who will be working on their sites. Construction skills and construction site safety need to go hand in hand and made a priority to encourage improved work skills and reduced accidents and injuries. Not only is SSSTS training a must put in place by the MCG, it is also ideal for anyone looking to take on a supervisory role within the construction industry.
SSSTS Course Content
The main focus of the SSSTS course content will be on the importance of risk assessments in construction sectors. There is a focus on how to implement control measures on site and how to use communication to ensure the site remains safe for everyone. The CITB site supervision course content works on monitoring the control measures and work making sure that the work is carried out correctly and follows the advice and guides set out in the risk assessments.
Topics in the Course Syllabus
The Health and Safety Acts, Regulations and the Approved Codes of Practice and Guidance Notes
The H&S Legal System
Causes, types and the numbers of construction accidents
Risk Assessments in all manner of construction circumstances such as:, working at height, demolition, occupational health, fire, electricity, confined spaces and the control of contractors
Training Objectives
The SSSTS training course will provide you with the skills to:
Identify problem areas found within construction industries
Understand and appreciate proactive and reactive monitoring
How to conduct a risk assessment and recognise the importance of method statements
Have an understanding of the way the health and safety laws are structured
Learn the skills needed to perform on site inductions, method statement briefs and toolbox talk.
IMPORTANT INFORMATION
Photographic I.D. is required for all delegates
Written parental consent is required for all delegates under 18 years of age
Failure to provide this on the first day of the course is likely to result in the delegate not being allowed to attend or complete the training.