IMPORTANT NOTICE: It is Possible to Attend this in 'Virtual Trainer' Format During COVID-19 Lockdown
All delegates who have an expiry date on their SSSTS certificates after the 15th of March 2020 now have until the 30th of November to refresh.
Scheme Rules have been implemented by the CITB as a result of extraordinary circumstances impacting the regular provision of training to the construction industry. This measure is designed to maintain a level of training in the industry for existing Site Supervisors, ensuring a continued understanding of legislative changes and their impact on the workplace. During the COVID-19 lockdown SSSTS (Virtual Trainer) course can be attended at home.
SSSTS Course
The two-day CITB SSSTS course is a Site Safety Plus accredited Site Supervisor Safety Training Scheme for the construction site supervisor. This site safety qualification is now a requirement set out by Build UK (previously known as UKCG) for all supervisors who will be working on their sites. It is endorsed as the standard training for all supervisors working on Build UK sites.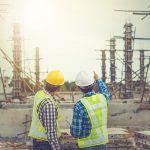 Construction skills and construction site safety need to go hand in hand and made a priority to encourage improved work skills and reduced accidents and injuries. Not only is SSSTS training a must put in place by Build UK, it is also ideal for anyone looking to take on a supervisory role within the construction industry and to increase understanding of health and safety.
CITB SSSTS courses are designed for first line managers looking to continue or take on a supervisory role within construction. The courses are often attended by supervisors with supervisory responsibilities and therefore legal responsibilities.
SSSTS training takes place over two days and will teach health and safety skills needed to maintain a safe site. This course must not be confused with the SMSTS (Site Management Safety Training Scheme) as the site management scheme is a more senior qualification with a duration of five-days.
It is also important to note that a more basic introduction to safety on site also exists for individuals who are not in supervisory or managerial roles – try the 1-Day CITB Health & Safety Awareness.
Site Supervisor Safety Training Scheme
The Site Supervisor Safety Training Scheme course content will focus on the importance of risk assessments in construction sectors. There is also focus on how to implement control measures on site and how to use communication to ensure the site remains safe for everyone. The CITB site supervision course content works on monitoring the control measures and work making sure that the work is carried out correctly and follows the advice and guides set out in the risk assessments.
The topics which are covered in the SSSTS course include:
The Health and Safety at Work Act, Regulations and the Approved Codes of Practice and Guidance Notes
The H&S Legal System
Causes, types and the numbers of construction accidents
Risk Assessments in all manner of construction circumstances such as:, working at height, demolition, occupational health, fire, electricity, confined spaces and the control of contractors
Course Objectives
The objectives of the SSSTS course will be to provide you with the skills required to identify problem areas found within construction industries. The training will help you to understand and appreciate proactive and reactive monitoring. It will teach you how to conduct a risk assessment and recognise the importance of method statements. How to have an understanding of the way the health and safety laws are structured. Finally, you will learn the skills needed to perform on site inductions, method statement briefs and conduct toolbox talks.
How Will The SSSTS Training Be Assessed?
SSSTS training assessment is continuous throughout via individual and group exercises. Testing of the knowledge learned during the two days is in the form of a multiple choice CITB examination paper consisting of 25 questions. 4 of the questions will be safety critical and will require a short written answer.
Safety critical questions are worth 1-3 points each and multiple choice questions are worth 1 point each. To pass the course successfully delegates will be required to answer all of the safety critical questions correctly. The pass the exam a score of 80% (24 out of 30) will be required.
Delegates attending the Site Supervision Safety Training Scheme and who successfully complete will receive a CITB certificate to show that they are able to help supervise in construction environments and have understanding when it comes to workplace safety.
The SSSTS certificate will expire after five years. Individuals who would like to renew their current CITB site supervisor certificate are required to attend one of our SSSTS Refresher courses, however if your current certificate has expired you will not be allowed to attend the refresher course, you will be required to attend the full two day course again.
IMPORTANT INFORMATION
All delegates must have a good understanding of written and spoken English. Translators are not permitted to attend.
Individuals who need to re-sit the exam must do so within 90 days of the original course date at an additional charge.
Photographic I.D. is required for all delegates, such as a copy of your passport or driving licence.
Written parental consent is required for all delegates under 18 years of age.
Failure to provide the above on the first day of the course is likely to result in the delegate not being allowed to attend or complete the training.
CITB Site Safety Plus Publication / Workbooks
All CITB Site Safety Plus courses advertised on our website include access to Construction Site Skills publications. Dependent on the accredited CITB training provider, delegates are given the option of taking away training materials in the following formats
hard copy workbooks
CD
access to a materials online
Confirmation will be provided via the joining instructions issued following receipt of full payment. Please check at the time of booking as to whether or not current hard copy publications are included in the cost.
CITB Levy Payers
To allow for the automated process of claiming back the training grant, please ensure that delegates attending courses, take the Levy Number & enter it on the relevant section of the course paperwork. Retrospective claims may not be accepted.
Are Further Study Options Available?
Successful candidates can go on to complete the 5 day SMSTS course (site management safety training scheme) designed for site managers and supervisors. Alternatively, may consider progressing onto the NVQ Level 4 Construction Site Supervision.